Custom Orthotics - Information, Explanation & FAQs
By Isaac Tabari
VIDEO: Learn About Custom Orthotics
What are Custom Orthotics or Custom Insoles and what foot conditions do they help relieve?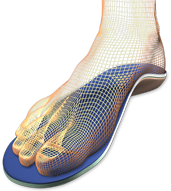 Dr. Isaac Tabari is a specialist in foot problems. Besides foot pathology and corrective surgery, he is an expert in gait analysis and physical assessment of biomechanical dysfunction of the lower limb. He cultivated an interest in biomechanics of the foot early in his career, and has become a prominent expert in the field.
At NYC Podiatry Center of Excellence, we strive to provide custom-fitted orthotic insoles that are individually casted, measured, crafted by hand and designed to fit the extraordinary characteristics of your feet. Custom foot orthoses, custom orthopedic footwear, or orthopedic shoe modifications can be invaluable in the right circumstances, but we emphasize that these devices should be prescribed only by a medication profession, such as a podiatrist who has extensive experience and expertise in gait analysis and foot biomechanics. .
You don't always need surgery to correct foot pain problems, whether they are bunions, hammer toes, flat feet or plantar fasciitis. Often times, we can eliminate your pain and correct many foot conditions using custom orthotics. These are NOT the over-the-counter, one-size pre-fabricated insoles you find in pharmacies and malls. These are custom made insoles fitted by a skilled diagnostician just for you.
Get custom fitted for your own pair of orthotics. Call (212) 288-3137 !
What is a Custom Orthotic?
A custom orthotic is a device designed to align the foot and ankle into the most anatomically efficient position. They look like insoles, but that is where the similarities end. Custom orthotics are biomechanical medical appliances that are custom made to correct your specific foot imbalance. They are individually fabricated over a three dimensional model of your foot. Custom orthotics work on your feet much like glasses work on your eyes - they reduce stress and strain on your body by bringing your feet back into proper alignment. The plastic body of the custom orthotic helps to re-align the foot by redirecting and reducing certain motion that takes place during the gait cycle. Most often custom orthotics will fit comfortably into your shoes. Occasionally, a slightly larger shoe might be required.
Orthotics, also known as footbeds, are custom shoe inserts. Their purpose is to create a solid, anatomically correct foundation for the body. Essentially, orthotics bring the ground up to us. In doing so they align us in a stronger position by compensating for slight defects in the feet.
The need for orthotics is often related to an issue with the natural functioning of the foot. Orthotics will often help to realign the bones within the foot and ankle and therefore take pressure of other parts of the body such as the back, neck, shoulders and hips. In addition, orthotics will help with distributing your weight properly and take further pressure off of toes, bunions and other parts of the foot.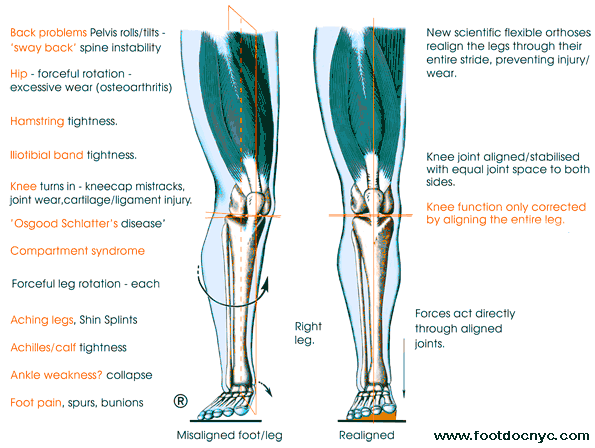 Who Wears or Needs Custom Orthotics?
Custom orthotises are used by almost all athletes, from the recreational level to top professionals. Additionally, orthotics are worn by dancers, construction workers, and everyday people who are looking to aleviate pain and create comfort in their shoes.
Besides functioning as pain-relievers and body realigners, orthotics are preventative devices as well. Everyone can benefit from the use of the device whether the goal is to help alleviate pain caused by a a medical condition or to simply create comfort to a shoe. They are really for anyone with an issue or discomfort relating to walking or imbalances in the body that are known to cause related pain.
What Foot Conditions Do Orthotics Help With?
Orthotics are commonly prescribed by podiatrists to help with bunions, hammertoes, heel spurs, metatarsal problems, diabetic ulcerations and numerous other problems. They also minimize shin splints, back pain and join strain.
However, there are four common conditions that podiatrists treat, and for which orthotics have to help:
Other potentially treatable conditions include patellofemoral knee pain, shin splints and achilles tendonitis.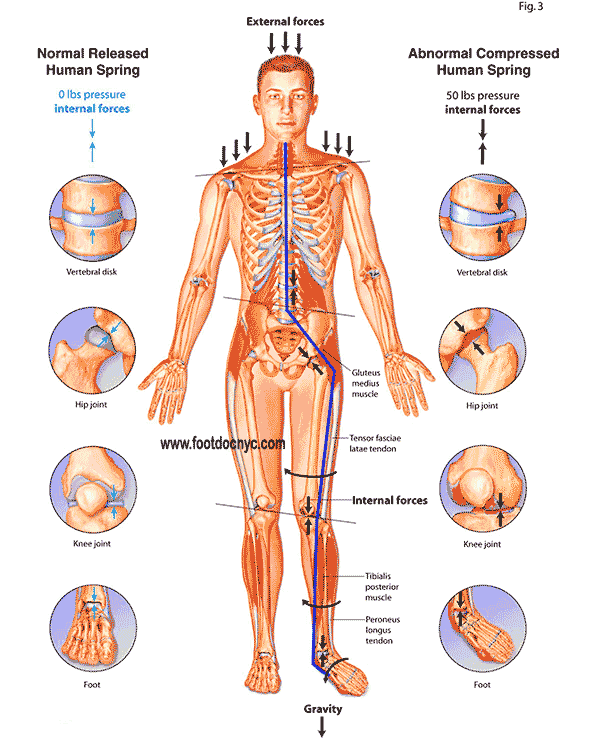 Image: Improper foot and body biomechanics and how orthotics help correct whole body functions by realigning the bones within the foot / ankle.
What if I Do Not Currently Have Any Foot Pain?
As mentioned above, orthotics should be thought of as preventative devices that help align your body properly to avoid future foot / back problems..
Should You Wear Orthotic Insoles All The Time?
The longer you wear your custom orthotics the more benefit you will get out of them. Initially, when first wearing them, we ask you to break them in.
How are Custom Orthotics Molded?
We start the process with the casting of your feet in a neutral position. After the cast is made, Podiatrist, Dr. Tabari determines which materials are suited for your foot condition, taking into account your activity level and the type of shoes you plan to wear your orhotics with. Casts are then sent to an orthotics labaratory where orthotics are molded using the impression from your cast. The orthotics are then customized with a grinder to ensure that they match the client's specific / exact needs. Upon completion, they are sent from the lab back to our Center. We will call and ask you to come in for fitting into your shoes. They replace the liners that usually come with your shoes - and the doctor will check if they fit right. The doctor may continue customization of your orthotic in his own office if he deems it necessary.
Custom Orthotics vs. Over-the-Counter Ones - Differences?
Custom orthotics are specially-made devices designed to support and comfort your feet. Prescription orthotics are crafted for you and no one else. They match the contours of your feet PRECISELY and are designed for the way you move. Custom orthotics are only manufactured after your podiatrist has done a complete evaluation of your feet, ankles, and legs. Therefore, the orthotics can accommodate your unique foot structure and pathology. Prefabricated over-the-counter insoles do not feature the above-mentioned benefits. Read our blog post about orthotics sold at retail stores and why they are not really custom orthotics.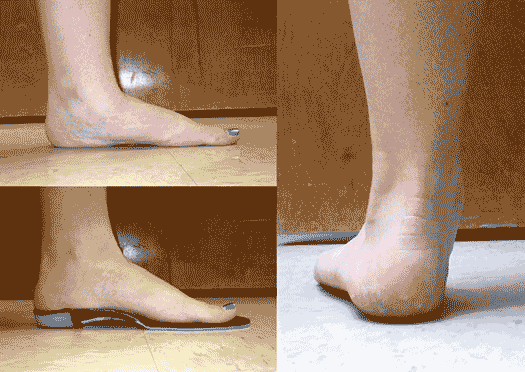 What is the Production Lead Time for Each Orthotics Pair?
The orthotics are finished and available about 2 weeks after the initial foot casting appointment.
What is the Lifespan of Each Pair?
The life span of our orthotics varies between 12-24 months, depending on the frequency and type of use. Many of our clients own several pairs. This extends the lifespan of the product substantially, in addition to easy of use for the wearer who doesn't have to switch them between shoes.
What Do Orthotics Feel Like?
Due to the fact that custom-fitted orthotics are made to realign the foundation of your body and how your feet are functioning, your body may react in a variety of ways. You may feel that you are rolling to the outside of your feet, or riding high in your shoes, or feel pressure under your foot arch. These sensations are expected and gradually disappear after a few weeks of the break-in period. Dr. Isaac Tabari recommends that newly dispensed orthotics only be worn for 1 hour the first day and then increasing wear time each day in order to ease the transition.
Is Soreness in Legs and Back Normal With Custom Orthotics?
Some of our patients may develop discomfort in the foot or back when initially wearing orthotics, while many of our patients don't have any discomfort. This initial discomfort is normal and happens due to your whole lower extremity and pelvil being realigned. Your ligaments and muscles are readjusting to the new alignment. After a few weeks of the "break in" period, this discomfort usually disappears. If you feel constant discomfort, please see us for a follow-up appointment, as we may need to adjust your orthotics.
What Kind of Shoes Do You Wear With Orthotics?
At NYC Podiatry Center of Excellence, I recommend that orthotics are worn with any type of shoe that has a removable insole. Just remove the insole that came with the shoe and replace it with your custom orthotic. There are some shoes that we recommend over others, depending on the patient's foot condition. The doctor will discuss his recommendations with you during your foot examination.
Do Muscles Get Weaker Wearing Custom Orthotics?
Custom orthotics do not reduce your muscle tone. On the contrary, they help position your foot properly in your shoe and on the ground so that you are using the right muscles properly while minimizing fatigue and pain.
***This material is only provided as helpful information and not as medical advice and you should consult with your foot doctor or another medical doctor for a professional diagnosis. ***
For more information on foot and ankle podiatry services and to make an appointment with NYC Custom Orthotics Expert, Podiatrist Dr. Isaac Tabari, please call us at (212) 288-3137 or click below to make an appointment: