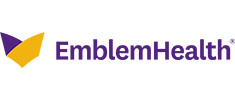 We are happy to announce that our podiatrists accept EmblemHealth and GHI at NYC Podiatry Center of Excellence. Some of of the plans that we accept are EmblemHealth EPO, EPO Value, InBalance EPO, HealthEssentials Plus, HMO, Medicare, Medicare Supplement, EmblemHealth Medicaid and Child Health Plus.  We are in-network providers for these plans and are proud to be preferred care providers.
With EmblemHealth / GHI, you have access to podiatry services, foot care checkups, x-rays, procedures, emergency care and more.
EmblemHealth is a local, neighborhood health plan that has served the New York area and surrounding communities for more than 75 years. Therefore it is one of the nation's largest not-for-profit health plans, serving 3.1 million people who live and work across the New York tri-state area.

EmblemHealth was formed from two companies, Group Health Incorporated (GHI) and Health Insurance Plan of Greater New York (HIP). Both these plans have local roots and share a rich health care history. It offers a range of commercial and government-sponsored health plans for large groups, small groups, individuals and families. The plan has an extensive network of doctors and hospitals throughout the tristate area. Visit EmblemHealth website to learn more information about your specific plan. On this website you can also find out whether your plan has any deductible, coinsurance and copay fees.
If you are wondering whether we accept your plan, please visit the comprehensive list of insurances we accept.  You may also call our front desk specialists at 212-288-3137 or inquire via our contact form.
We look forward to seeing you in our office to help you get back on your feet fast!
Latest posts by Dr. Isaac Tabari
(see all)