All about Laser Treatment for Fungal Toenail: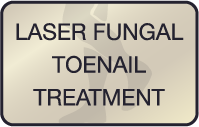 Onychomycosis is a medical term for a fungal toenail infection. The fungal infection can start at the outer layers of the skin and progress to the nail plate. It is very common and causes toenail conditions such as thick, rough, separated from nail bed, and yellow or cloudy toenails.  Fungal infection can affect people of any age or gender.  NYC Podiatry Center of Excellence provides an effective treatment for this condition called Laser Treatment for Fungal Toenail. It can be used alone or in combination with prescription medicine for effective treatment of fungal nail conditions.
Conservative treatment for this condition is topical treatment and/or oral treatment. Unfortunately, topical treatment is relatively ineffective. It does not work well because it's difficult for the topical medication to pass through the nail unit to the underlying tissue. Oral treatment, though reasonably effective, carries some risk. Oral anti-fungal medications require close monitoring for dangerous side effects and liver toxicity. They are also rather pricey and require long treatment (12 weeks+).
The latest approach to treating fungal toenails is Laser Treatment.
Laser treatment for fungal toenail is a modern, technologically advanced approach. Lasers produce coherent light energy of a sufficient strength and wavelength that can project through the nail unit into the underlying tissue. This energy produces heat that destroys the infected tissue while leaving other healthy tissue components unaffected. Due to the fact that laser machines are expensive (some run in hundreds of thousands of dollars), the treatment with such lasers is not cheap. It's also not usually covered by health insurance plans and carries out-of-pocket expense.  Our center offers laser treatment at a very competitive price for NYC area.
Fortunately, there is empirical evidence in published articles that supports for the efficacy of laser fungal toenail treatment therapy. At NYC Podiatry Center of Excellence, we are proud to offer this service to our patients with the latest and best laser unit currently available on the market. The laser fungal nail treatment has been designed specifically for the treatment of Toenail Fungus. The laser modality we use is the result of 20 years of research by a team of scientists and medical professionals.
We would like to mention that we see ads popping up of nail salons or beauticians offering this treatment at wholesale prices. Be aware! You want this treatment to be done by a licensed podiatrist. Our head podiatrist, Dr. Isaac Tabari, is specifically trained and certified to treat Toenail Fungus using the laser machine.
Laser fungal nail treatment does NOT involve anesthesia, has NO side effects, NO recovery time and NO surgery and pain.
Our center in Midtown Manhattan NYC is fully equipped with all the necessary tools and requirements for treating Toenail Fungus infection by laser. The treatment usually takes no longer than an hour and most Toenail Fungus infections are treated in one session.
For more information about this treatment, check out our Fungus Toenail Laser Treatment page.
Question #1: What is Fungal Nail Laser?
Answer:  It's a modern, technologically advanced unit that produces light energy with enough strength and wavelength to project through a nail to destroy infected tissue under the nail.
Question #2: Is the laser treatment for fungal toenail painful?
Answer: No, it does not involve pain.
Question #3: How long does the treatment take?
Answer: Less than an hour.
Question #4: What is the effectiveness of the Laser Treatment for Fungal Toenail?
Answer: Most of the time, the laser is a very effective treatment for the fungal nail infection. In some stubborn conditions,  a follow-up laser treatment or a combination oral medication / laser treatment may be indicated.
Question #5: How soon will I see improvement?
Answer: It takes a 2-4 months for the new healthy nails to grow.
Question #6: Is this treatment safe?
Answer: Yes it's safe and carries no risk.
Question #7: Will I be able to walk after the fungal nail laser treatment?
Answer: Yes, you can absolutely walk after your procedure!
Question #8: Is laser treatment for fungal toenail covered by health insurance?
Answer: Most health plans do not cover this treatment.
Do your toenails appear yellow, brittle or thickened?
Do you avoid swimming at the beach or pool because of the appearance of your toenails?
Are you embarrassed when you go barefoot because of your thick yellow toenails?
If you answered yes to any of the above questions or someone you know is suffering from these conditions, Laser Fungal Toenail Treatment may be right for you.Feel free to contact our office in Midtown East NYC for an appointment, or call us at Tel. (212) 288-3137.
Please also visit following link for more information:
Latest posts by Dr. Isaac Tabari
(see all)